Custom JK Brake Line (set of 2), Rear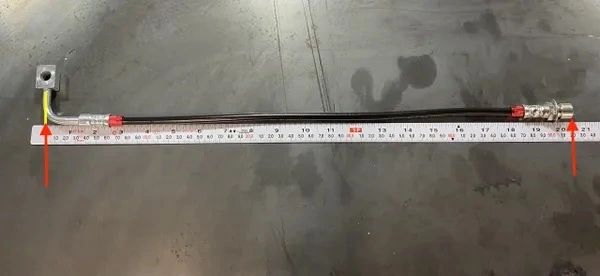 Custom JK Brake Line (set of 2), Rear
Tired of ordering brake lines based on the lift of your vehicle only to receive lines that are too short/too long? Looking for a built in America product that meets a high standard of quality control? We have your solution! Our lines are built right here in Annapolis, MD and are based on your actual needs- not a generic lift size. 
Custom Brake Lines, built to order (*note current lead time from build to shipping/pick up is 2 days)
Choose your line color, collar color, and provide us a measurement* and leave the rest to us! We will build the lines to your provided specifications. 
*How to measure brake lines:
Please refer to the photo for reference points. 
For a JK, measure from the edge of the bend in the banjo to the edge of the flange on the opposite end.
This measurement is the overall line length.
If you wish to add length to your existing brake line you can add it to this number
(*note World Tour will not accept returns for brake lines ordered incorrectly, please call the office for assistance if you are unsure of what you need)
We will try to be as exact as possible however finished product may vary +/- .25 inches due to the crimping process/human aspect.