G2 Axle & Gear Differential Cover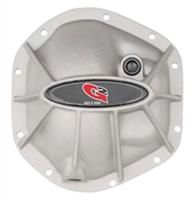 G2 Axle & Gear Differential Cover
Are you still rocking the stock differential cover or have an after market cover you've beat up? For TJs & JKs, our shop favorite is the G2 Aluminum differential cover and we carry them in stock every day!
What we like about it:
Solid milled aluminum is strong and a natural heat synch (*meaning it pulls heat out of your differential and helps to avoid cooking your gears!)
Easy to access drain plug (this is especially helpful on axles that did not come with a drain plug built into the axle!)
Slightly higher fill plug to allow just a little extra gear oil to protect your gears!
Added benefit of solid aluminum construction is it can be painted if you choose but will remain rust free if left bare!
*note actual cover may vary slightly from stock photo.